QualityHighest Rate Dog Training Around! All dogs can learn new tricks!
Petropolis in New York flaunts an experienced and competent staff of pet dog trainers and also behaviorists throughout the New York area. We provide basic canine obedience courses, pup training and also puppy socializing courses, dog behavior modification training and in-home personal pet training to customers 7 days a week, CLOSED NOW. If you want to speak with a trainer or a dog behaviorist, please contact us at (212) 608-2234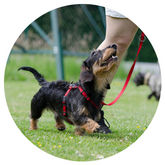 Beginner Training
Beginner training for pets is important. Pet dogs aim to please, so with these beginner approaches as well as strategies, they will supply your pet dog's possibilities to make you delighted. Our programs start with the typical sit, stay and come. However as your pet dog developments, we provide extra challenging requests that are offered in our various other training courses! These are made to maintain your pet dog involved and also on their toes.


House Breaking & Potty Training
House training your pup has to do with uniformity, patience, and positive support. The objective is to impart great routines and also build a caring bond with your family pet.
Specialists suggest that you begin home training your puppy when they are in between 12 weeks and 16 weeks old. At that point, they have sufficient control of their bladder and also bowel movements to learn to hold it. With Petropolis's expertise, we provide you the devices as well as methods to ideal residence train your brand-new furever friend.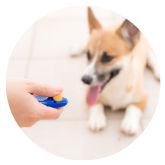 Clicker Training
We offer clicker training! Clicker training, or markand reward, is a type of favorable reinforcement dog training. The clicker or marker interacts the exact moment your pet does what you want. The timing of the click is crucial as well as every click must be complied with by a incentive. This is an great form of positive reinfocement for your pup!


Puppy Training
Signing up in puppy courses before three months of age can be an excellent means of improving training, strengthening the human-animal bond, and also mingling pups in an environment where danger of health problem can be decreased. Generally, puppies can start puppy socializing classes as very early as 7-8 weeks of age. Pup socializing courses offer a secure as well as well organized means of socializing pups as well as faster boost their responsiveness to requests. Early and ample pup socialization and also programs of favorable dog training can go a long way to preventing actions problems and also enhancing bonding between human beings and also dogs. While the initial three months is the most important young puppy socializing duration in a puppy's life, owners of young puppies that have passed this turning point are strongly motivated to continue to mingle their puppies to as many individuals, animals, and areas as functional.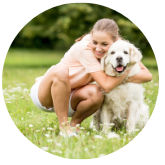 Positive Reinforcement
Petropolis training program uses ONLY positive reinforcement pet training approaches. Some dog training companies who use "Board and train" will certainly do whatever it takes to get fast outcomes with your pet dog including employing choke chains and also shock collars. Petropolis does NOT utilize any type of aversive dog training methods on your dog unless especially asked for by you as well as concurred by us ahead of time.

What People Are Saying About Petropolis
We love our customers from New York areas around Wall Street Station, Metropolitan College, Battery Park, Hanover Square, Manahatta Park, Financial District, City Hall Park, Zuccotti Park, Rockefeller Park, South Brooklyn, Fort Jay, Brooklyn Heights, New York, Chinatown, Greenwich Village, Fort Greene, Communipaw, and Hoboken.
Come visit our pet supply store in New York, NY specializing in quality food, treats, and supplies for cats and dogs.